| | |
| --- | --- |
| Crossbreeding Montbeliardes with Fleckvieh | |
---
READ OUR TESTIMONIALS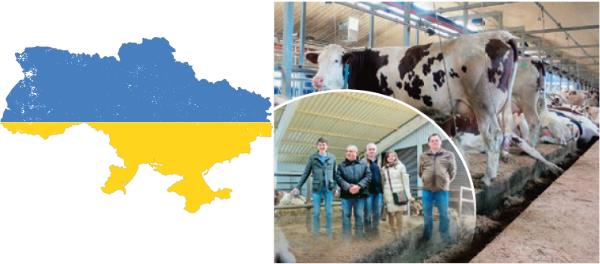 ZHADKIVSKE HERD, UKRAINE
THE FARM UKRAINE, 150KM EAST FROM KIEV
---
Breeds :
German Simmental-Fleckvieh and French Montbeliarde
Headcount :
400 Simmental cows and their young stock, 100 Montbeliardes cows and their young stock. The cows are housed in a DELAVAL type tie stall barn. Heifers are raised in a free stall barn.
Feeding :
Corn silage, concentrates, nitrogen correcting soy, green chopping during spring and summer
Milk production :
Simmental : 20-21 kg milk/day (all lactations)
Montbeliardes : 25-26 kg milk/day (1st lactation)
---
Anatoliy KIRIY, Livestock Chief
We first chose the Holstein breed, but Montbeliarde has higher production performances, a great acclimation capacity and a much higher productive longevity than Holstein. Therefore, we turned to the Montbeliarde breed, able to intake rough forages thanks to its large body capacity. After a few months, we noticed that Montbeliarde has the ability for rapid resilience after disease: she recovers faster than holsteins.
Alexander SYSOYEV, Director
In 2016, we bought 32 pregnant Montbeliarde heifer in France without any problem of acclimation. In 2017 again, we imported 66 heifers from France and we wish to do it again rapidly. We want to replace all